Posted by
vikk
on April 16, 2014 at 8:21 AM
If you're looking at Vodafone plans that come with the Samsung Galaxy S5, their recent announcement of a double data promo on certain contracts may help sway your decision on which one to go for. This is available on all plans from $60/month and up for the duration of the 24 month contract at no additional cost, giving you a minimum of 3GB of data per month.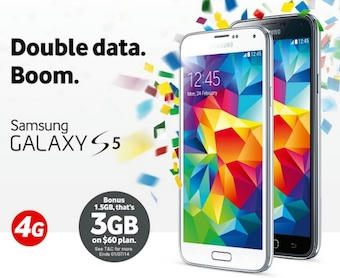 Let's just cut to the chase and start with the more fitting plans for the S5. Both the $60 and $65 ones at Vodafone offer great value with unlimited calls and SMSs, plus double the usual 1.5GB of data (to 3GB/month) if you sign up before the 1st of July this year. The handset itself will cost you an extra $14 monthly, which works out at an additional cost of $336 over the 24 month contract lifespan.
With the $60 plan you get infinite calls to Vodafone numbers, plus $700 worth of calls to other networks – which based on whistleout's calculation is equivalent to 600 minutes of calls/month. Meanwhile with the $65 plan your calls have no network restrictions. On this basis, I'd suggest that unless the majority of your business or personal contacts are on other networks, you're better off saving $5 per month by opting for the $60 plan. This avoids unnecessarily spending an extra $120 over the contract duration.
---